The Berkshire Eagle
July 24, 2021
'DIRECTOR Q&A'
UBU Theater director Ann Gallo on giving voice to Tyringham's women with new oral history theater project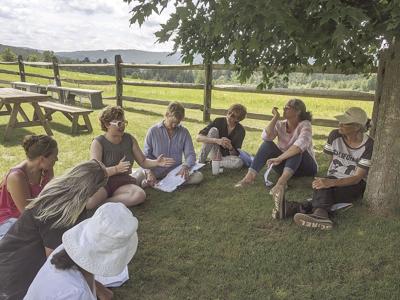 In 2017, Tyringham community members performed Thornton Wilder's "Our Town," under the direction of Ann Gallo, UBU Theater founder and director. It was a hit. Kerry Clark Sullivan, who grew up in Tyringham, but no longer lives there, said she was "blown away" by seeing it. Right away, people were talking about doing another play.
But which one?
One day, Gallo saw a stack of cassette tapes while at a meeting in the former schoolhouse. She asked what they were. She started to transcribe them and was amazed that of the 60 oral history recordings, only six were of women. The next play was inspired by that discovery. But, this time, in addition to producing and directing the play, she would write it, too.
So, she interviewed 32 women, and together with Rachel Urquhart, also of Tyringham, wrote a play using those conversations. Clark Sullivan is now running lines with her husband every night: She has become part of a new tradition. She said she is hearing for the first time the sorrows and joys of women in town, sometimes around events that may have been generally known — like a big fire — but were dealt with privately.
We interviewed Ann Gallo to ask her about the process.
Q: Ann, what is community-based theater?
A: It's not community theater. I would define it as curating a community and engaging the community in a very slow trust-building process. The project I did, "Our Town," back in 2017, took about a year for folks to kind of come around and trust me, because you're vulnerable if you're going onstage or you're doing something for the first time. When it works, and people become engaged, it's an incredible thing, and I'm already seeing it with this project.
Q: You had experience with community-based theater?
A: After my kids started leaving the house and going off to school, I got a master's in theater education. So, that gave me the tools and the courage to do it.
After "Our Town," everyone was psyched. We did a play; let's do another one. There's this little town in Italy, Monticchiello; every August they write their own play, and they've been doing this since the 1960s. One of their first plays was about World War II, and I showed that film at the church. I said, "Someday, we're going to do something just like this."
Q: So, you interviewed these women. You have 32 interviews. You have interview transcriptions; a lot of pages of talk. What did you do next?
A: Then Rachel Urquhart and I read through everything. We had two copies of all the transcripts, and we would circle if it was a line, if it was a character description, if it was a full-fledged story. Then, we would read them to each other, because you have to hear them out loud.
We started making piles. This entire living room: this was the farming pile, this was the character pile, this was the funny-line pile. That was the mother pile. That was the father pile. That was the farming pile. That was the death pile. That was the community pile.
Q: You circled parts of the transcripts, cut those pieces out, and put them in piles?
A: Yes. We spent hours in there every day for probably a month just piecing it together.
I had just gone to London, the British Library, to do a workshop on how to take text to script. In the middle of it, the guy goes, "All right, I'm going to hand out these transcripts, and you have a half-an-hour to write a scene based on this stuff." This was handwritten, no laptops. Then, we all read each other's scenes.
So that was just a fish-or-cut-bait moment. I said [to Rachel], "Okay, stop. We have to stop making piles. We now have to start writing. You and I are going to go in that kitchen and we're going to sit down. Here's a piece for you, and here's a piece for me, and we have a half-an-hour, and we're just going to start writing a scene." Both of those scenes are still in the play.
Q: At then some point, you knew it was a script. It was a thing.
A: It was a thing, and it ended up being the categories, mothers and relationships with mothers and fathers, and marriage, and going to school. We refer to them as those categories still, the scenes.
Q: Can you talk about the setting?
A: The third act of "Our Town" took place in the field behind the Union Church. There is this corner with a beautiful perfectly round tree ,where you can see the schoolhouse. You can see the hills. You can see a farm up here, and then you can see the Cobble. The center of town is that Cobble right there [pointing to her window].
I've made a thrust stage, thanks to Corinna May (Shakespeare & Company). She recommended it for non-actors, who are not used to throwing their voices. Typically, if you have a thrust, the audience is around three sides. There's a beautiful split-rail fence. It's just iconic of the town and the agricultural history here.
There are some scenes, there are some monologues, 20 characters, so there's a lot of actors crisscrossing.
Q: You mentioned many people had favorite places. What was a favorite place?
A: There was Baldy, which is no longer Baldy, and I went to the dump Wednesday with my stage manager, Francis Bandy, to talk with Tom and Hoppy to go ask them: "Where's Baldy?" It was a hill full of blueberry bushes, and everyone picked blueberries up there. Everybody remembers, but no one can find it anymore, because it's completely overgrown with trees, so no one knows where Baldy is anymore, because it's not bald. Finally, Hoppy goes, "When you're standing on your stage, it's kind of just in this general area over here."
Q: How do the men feel about being left out of your play?
A: Well, there are three male actors who play multiple roles. Some of them are not so nice parts. Some of them are nice parts.
These guys, totally get it. Kim [Bradley], the other day, we did the end of a scene, and he was weeping, too. He's a cancer survivor, and it's about one of the women's husbands. She was married 20 years, and then he died of cancer. It's a monologue that we've created a scene for.
They had two Belgian horses and a big hay wagon, and they went down Main Road, all the way to Ashintully with her husband in a lawn chair, because he was so ill. On the back of this wooden wagon, pulled by these two huge horses, and then his brother was dying of cancer, but not quite at that stage that her husband was. She just describes how the brother was able to take them up to the end of the road, but she had to bring them back, because he was so tired. It was such a picture. I hope it works.
Q: Do you try to make pictures?
A: They're tableau. It's movement. You don't freeze. A lot of these are just images, especially when you're outdoors. You have this environment. You don't have to worry about lights. You don't have to worry about stages. It's just so pure. It doesn't get simpler. Other than rain.
---
_________________________________________________________________________________________________________________________________
Williams alumna writes about learning and the brain
Neurologist turned teacher/author was among first women to graduate from Williams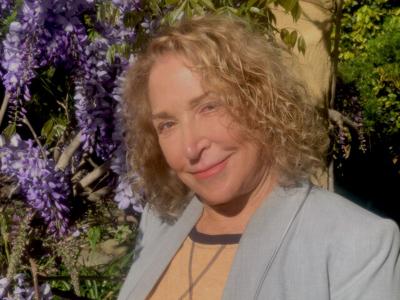 When Judy Willis left the practice of neurology to teach elementary school students she had a mission. She knew about a part of the brain most of us have never heard of, how it affects learning, and determines whether kids act out or zone out in class. She would apply that knowledge.
In fact, if we know about this brain switching station, we can change our lives. It is a big promise, but Willis works to spread the word, as an international speaker and writer of books on learning and the brain.
Judy Willis, then Allerhand, was among the first women to graduate from Williams College, in 1971. But we start her story earlier.
One day, while in the second grade, she announced to her mother that she wanted to be a teacher. "Teachers are amazing," her mother responded, "but did you know you could also be a doctor?" No, she replied. "Boys are doctors; girls are nurses." Her mother corrected her, and at that moment, she decided to be a doctor.
Willis attributes her confidence and strong will to her parents' care. "Even though they had not gone to college themselves, they showed confidence in me, directly and indirectly."
In high school, she had high test scores, but a guidance counselor suggested only two nearby colleges, she lived in Oceanside, Long Island. A fellow student suggested they go to visit a private counselor.
"I told him I had heard of a place called the University of Michigan." He recommended the Seven Sisters, a term she had not heard of, but learned they were a group of liberal arts colleges founded to give women comparable educations to that of prestigious schools not admitting women. She went to one of the seven, Vassar.
During her sophomore year, she heard about an experiment, an exchange program that included Vassar and Williams. She signed up to go to Williams in September, 1969.
Williams trustees had recently voted to admit women, beginning in 1971. But the benefit of this earlier experiment was that these women already knew how college worked, said Lisa Conathan, head of the Special Collections at Williams Libraries.
Willis majored in biology. "My first love at Williams was, indeed, the electron microscope," she said. She was thrilled at the chance to see parts of the brain in such detail.
When it was time to go back to Vassar, she protested, along with a group of other women in the exchange group. Willis was allowed to stay.
She also met her second love at Williams, one of her squash partners. He proposed to her: If he got into the same medical school as she, would she marry him? They chose UCLA.
After their neurology residencies, they started a private practice together in Santa Barbara.
In her practice, she began to see a dramatic increase in certain patients, children referred by teachers who thought they might have Tourette's Syndrome, petit mal seizures or attention deficit hyperactivity disorder (ADHD). They were acting out or zoning out in school.
Willis would evaluate them and determine that their problems were often not neurological. But she was puzzled.
"My kids had gone to the public schools,"  she said. She asked a few teachers she knew; they invited her to come and observe.
"Classroom after classroom, I remembered from my kids; being in them was so different. There were kids that looked really zoned out, kids running around, fidgety, and kids who seemed to be having outbursts."
Teachers said new curriculum standards had put them under pressure to get through required information.
"The result was much more drill and kill, lecturing, drill sheets, homework," Willis said. "They weren't even sitting in the little table groups in first grade. They weren't doing collaborative things; they weren't hatching chicks. Their curiosity could not be fulfilled."
But what could she do? "It's not going to help anybody for me to sit on my neurologist perch and say, 'No, it's not neurology.'"
"Maybe if I could help them [students] learn what they need to learn in a shorter period of time, they could bring back the things that made school so great for me, for teachers. Shorten the time it takes to do this memorizing and bring back the cool stuff."
So, she went back to school, got a master's in education, and became a teacher of second and then fifth grade, and finally, middle school math.
A neurologist teacher
This is where we come to that switching station, the amygdala. She explained: "I understood that for mammals in the wild — and humans — when the stress level gets high enough, the amygdala, this switching station, blocks input from getting to the prefrontal cortex, which is where long-term memory needs to go to be constructed."
In fact, when a person is under stress, the switching station closes the gate in both directions. If stressed or bored, the student cannot learn, and neither can he or she communicate what they already know.
"It wasn't hard to find out what the big stressors were for the most affected kids, and I started personalizing, talking to them. What were their interests. Getting them engaged through their strengths and doing a lot of group work where they could be the expert. My classroom was a place where they were safe."
"If they came in stressed, I wouldn't accelerate it. I wouldn't call on them randomly. There would be no need for the brain's programmed response — fight, freeze, flight, act-out, zone-out."
She taught children about their own brains, and she helped them tune into their emotional states. She pointed out what happens inside the brain during learning. "I would show them scans and they'd start asking questions."
The brain can always learn. "They first have to know that their brain has limitless potential, with neuroplasticity, and that their zoning out or getting frustrated, that is the brain protecting them when it is in a state of stress. We talk about ways they can decrease stress in the amygdala, through mindfulness, visualization. They know they can build the brain networks they want."
She talks about a video game model. "Why are video gamers so avidly playing, so they miss meals and skip homework and sleep? Well, it's the dopamine reward system. In a video game, you start at level one. If you don't know the stuff, you take as long as you want mastering level one. The player recognizes it as a challenge, but it's achievable, with practice."
In this model, instead of getting frustrated, they learn from feedback, because "the dopamine system gives bursts of dopamine, which causes pleasure, motivation, attention, memory, and intrinsic satisfaction."
Berkshire Community College math professor Annette Guertin wanted her students to hear what Judy Willis was saying. She started the BCC Math Oral History project to introduce students to such experts as Willis, who was the first interviewee, to meet "math people" not typically thought of as math people — artists, athletes — and to see math anxiety as something that could be dealt with.
Guertin says there is an added piece to the story with math. A person may have had a bad experience in a math class and avoid math altogether. That avoidance limits their educational and career options.
"Everyone can learn; everyone can do math," Guertin said.
Recently, at Williams College, Conathan and her colleagues developed focused sub projects for their oral history collection, including the first women graduates. And so, Willis' interviews will be included in two local collections. Meanwhile, recordings of her talks and books are everywhere. One of them, "Research Based Strategies to Ignite Student Learning," is cowritten with her daughter, Malana Willis, who graduated from Williams in 2000. Maybe, someday, there will be an oral history project on second-generation Williams women
Judith Monachina is the director of the Housatonic Heritage Oral History Center at Berkshire Community College. This interview was a part of the Math Oral History Project at BCC, and will be available online via the University of Massachusetts Libraries Special Collections. A podcast of this interview will also be available on the Eagle and Oral History Center sites.
---
---
Pittsfield pastor Charles Pratt recounts his journey from Ohio to Pittsfield
Pittsfield pastor recounts his journey from Columbus, Ohio to Pittsfield, Mass.
By Judith Monachina, The Berkshire Eagle, Feb 24, 2021
Julie McCarthy, photographer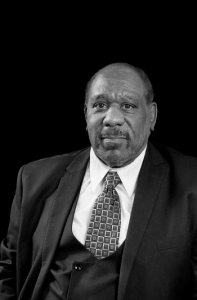 Charles Pratt is pastor of the Victory Temple Church of God in Christ, in Pittsfield, and an evangelist, with invitations to speak from coast to coast. To meet him, you might think he was born to do it, and it may be true, even if it was not always clear to him.
"All journeys have secret destinations of which the traveler is unaware." The quote is attributed to philosopher Martin Buber. And if the traveler is Reverend Pratt, he might mention the magnificent mysteries of life. He might say that he worked with great scientists, even Nobel laureates, and he could have followed that path. He would talk to you in a baritone voice, with a ready laugh. He certainly would say he did not expect to be where he is today, in a city he had not heard of, as head of a church, with his wife, Evelyn Pratt, as co-pastor. But that is what happened: He came to Pittsfield in 1980, for a week, and stayed.
Charles Pratt's father was a Tuskegee Airman, the first black aviators in the U.S. Army Air Corps in World War II. As Charles was growing up, his father worked in weather stations. At Lockbourne Air Force Base in Columbus, Ohio, now Rickenbacker International Airport, "He would take me up to the tower to watch the planes take off and land."
The family usually chose to live off base. Of the Azores, an archipelago 870 miles off the coast of Portugal, he recalls the beaches and bull fights. "They tell me I cheered for the bull." "They" might be his five sisters.
In Idaho, he fished with his father on the famous Snake River. Life on base in Champaign, Ill., involved a lot of saluting.
When he was 14 years old, and his mother was the church secretary in Columbus, he started "making little speeches," at Christmas and Easter.
Soon, he met Evelyn Judy Gammon. They both worked at the Lazarus Department Store's Colonial Tea Room. One day, on the bus after work, she recognized the young man who worked at the restaurant. He was getting off the bus at her church. "Someone else who has got church on his mind after working all day," Evelyn thought, "is interesting to me."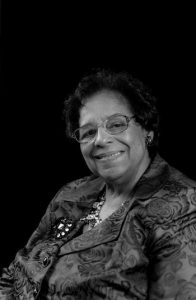 Charles Pratt might say the mysteries of traveling through life often come from the people we meet. Later in high school, he worked in a veterinarian's office. Then, when he went to Ohio State University on an academic scholarship, that veterinarian's son was working on his Ph.D. there, and he found a job for Charles in the School of Veterinary Medicine. Charles was fascinated by the intelligence of the animals he cared for, especially rhesus monkeys. He looked through an electron microscope and marveled at the structures of life.
After graduation, he worked at Battelle Memorial Institute, a science and technology company that developed everything from an alloy used in Elgin watches, to photovoltaic cells.
There, Charles assisted scientists on cancer chemotherapy toxicity studies and in the artificial heart program.
Evelyn and Charles married. Still working, he travelled to give talks on weekends, and not the little talks like when he was 14. He had become a guest evangelist.
"An evangelist is expected to come in with a more powerful speech than the average person. They're looking for a five-star performance. They want you to sing, and they want you to preach," he said.
Evelyn worked as pianist/organist closer to home, and sometimes went to meet him. They had four children. The nonstop work began to wear.
Then, Charles was offered a promotion at Battelle. He came home with the news, and the couple conferred. "We agreed this [ministry] was what he needed to do," Evelyn says. He resigned and traveled as guest evangelist: to places like Detroit, Northern Canada and Jamaica.
Evelyn contributed to his ministry with her piano and organ. The entire family performed music.
A call from Pittsfield
"While speaking in Toronto, I met people from New Haven [Conn.]. They said, 'You've got to come to our church.'" In New Haven, he got a call from a preacher in Columbus: "'My brother is in Springfield; that's close. They want you to go there for three days.'"
In Springfield, the bishop asked Charles to lead the Pittsfield church. He thought, "I don't know where it is, and I am not taking over a church. Anyway, I did come for a week."
As Evelyn tells it, he called and asked if she wanted to move to Pittsfield. "I said, 'Where is that?' He said it was near Albany."
"So, I told my little girls, and my Chuckie, 4 1/2, took them out to lunch. And I said, 'Sure, we'll go. Something new, something different.' And I guess the rest is history."
The Victory Church of God in Christ, Charles explains, is a predominantly African American church affiliated with the Church of God in Christ, which has congregations in 112 countries.
"I think the role of the church is multifaceted," he says. "We teach and we preach Christianity, our doctrine and so forth. But then I believe the church should be socially involved, help the helpless at any cost and measure that we can. I think if a child is in need, they don't have clothes, they don't have shoes, we ought to provide that. We ought to reach out to people in any way that we can to make life more comfortable. We have to come out of the building and go into the community."
In the community, he also serves on the board of the Berkshire Athenaeum, where Executive Director Alex Reczkowski refers to him as "a ballast, very calm."
The pandemic has been stressful, and the church has followed CDC protocols about masks and distancing. But there also is "a blessing in disguise." Some Sunday services now — a small group in the building, masked and socially distant — have 1,000 participants viewing online.
Black Lives Matter
"Racism is a snake we can almost ignore," he says, "until it starts to hiss and rattle. I have talked about it in sermons, but it is not the main topic." Young people, he says, "have no idea" what those in his generation have been through. "Now, Americans have been shaken out of our lethargy."
As recently as 2012, he experienced old Jim Crow attitudes in Louisiana. On a morning walk, he went into a restaurant. "I got wild stares. The owner came out and said, 'You can come back here and eat with me.'" In the back, which was his house, the owner explained that he too was from Ohio, but local clientele would not go for having a black man eat in the restaurant. When Charles returned to his colleague's house, his host, another pastor, said, "We can't eat there!"
Everywhere, as a younger man, including on back roads from Westfield to the Berkshires, he was stopped and asked for his license and registration, apparently for driving a car that did not fit a stereotype.
But he sees good signs. "My daughter, Terry, was elected class president at Taconic. Then her husband, Maurice, an attorney now, he was class president after Terry, at an overwhelmingly white school. I don't see that as prejudice."
When Barack Obama was elected president, "I was just elated. I never thought I'd see a black president in my lifetime." Obama invited the surviving Tuskegee airmen to his inauguration. His own career in public service, he said, "was made possible by the path heroes like the Tuskegee airmen blazed." When those aviators flew over Europe and North Africa, they had no idea whose journeys those flights might inspire.
Judith Monachina is director of Housatonic Heritage Oral History Center at Berkshire Community College. This interview was conducted as a part of the NAACP Oral History Project in collaboration with the Oral History Center. A podcast of this interview will be posted on the Eagle and OHC sites, and the entire interview is online with the University of Massachusetts Libraries Special Collections. This article is part of a series about people and their work.
---
---
May 2021

Housatonic Heritage Oral History Center
Recalling, and healing from, the memories of war