This is the first interview in our project, which will feature conversations with Essential Workers.  These interviews were conducted in April, and of course the constant changes in protocols and what we know about this pandemic have made it difficult to document.  List to a doctor, a nurse, a postmaster and a farmer/farm store owner as they try to figure it out and tell us what his happening and how they feel about their work.
Over the next few days, we will begin to populate this page with more of these and other podcasts.
https://www.buzzsprout.com/1089809/3967334                             .
---
---
---
The NAACP Oral History Project

is online at the UMass Libraries Special Collections and linkable on this site (see the Home page) and here is the place we will put podcasts from the project.
We begin with Shirley Edgerton (here above, seen on the right)
Next week, early June, 2020, we will add a podcast with Dennis Powell, who talks with us about Urban Renewal in Pittsfield Massachusetts.
---
From the National Parks Service, National Heritage Areas.  Episode 3.2 –
Watch Night (Freedom's Eve) in Gullah Geechee Communities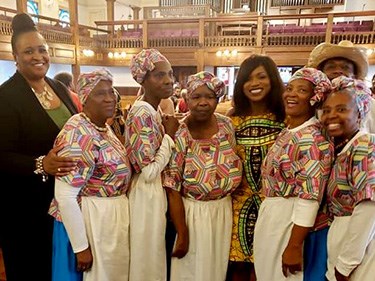 In Episode 3.2, Jules speaks with Heather Hodges, Executive Director of the Gullah Geechee Cultural Heritage Corridor, about efforts in the Corridor to support and revive Gullah Geechee Watch Night traditions.
Spanning 425 miles of coastline and sea islands from North Carolina to Florida, the Corridor's mission is to support and celebrate the culture and history of the Gullah Geechee people, who are descended from enslaved peoples from West and Central Africa. One of those traditions is Watch Night, also known as Freedom's Eve. In the midst of the Civil War, people gathered together in churches on the night of December 31, 1862, to await midnight, when the Emancipation Proclamation was to free millions of enslaved people in the South.
Over the years, many African American churches have continued to hold Watch Night services each year. However, over time the connection between the New Year and the Emancipation Proclamation was largely forgotten. Heather explains how the Corridor has recently been working with community partners to reestablish Watch Night's historical ties and revive its Gullah Geechee traditions.
https://www.nps.gov/subjects/heritageareas/nhapodcast2019.htm?utm_source=2020+1st+newsletter&utm_campaign=2020+NHA+1&utm_medium=email
__________________________________________________________
From Jacob's Pillow Dance Festival's Director of Preservation:

Pillow Voices
https://pillowvoices.simplecast.com/episodes/a-study-of-jose-limon-artist-and-immigrant
_____________________________________________________________________
From
ACCENTS: Voices of our Immigrant Neighbors

, a Berkshire Eagle Podcast by Reinout van Wagtendonk

https://www.berkshireeagle.com/stories/accents-podcast-meet-vivian-enchill-a-woman-designing-her-path-in-the-berkshires,505282/p/stories/accents-the-voices-of-our-immigrant-neighbors-in-the-berkshires,492728
Vivian Enchill, BCC Alumna.  Above, a link to an interview with Vivian, who was interviewed as part of the ACCENTS project of the Berkshire Eagle.  We were fortunate to work with the journalist who created this podcast series – he taught a workshop for practitioners of oral history in the Berkshires and NW Connecticut.

Our Workshops
When we first opened our Center here at BCC, Mark Mills, Bloomberg Radio journalist, who also does podcasts for the Berkshire Eagle, taught our Oral History Center interns about podcasting.
During that first summer, Rachel Levin and Chanel Palmer, Williams College interns at the Housatonic Heritage Oral History Center at BCC, interviewed Margaret Cherin, Archivist at Bard College at Simon's Rock.
Here is the interview conducted by students Rachel and Chanel, with Margaret Cherin, College Archivist, and her student Molly McGowan, who discuss their Oral History Project and share what they learned along the way.
IT WAS A GREAT START!
HOUSATONIC VALLEY REGIONAL HIGH SCHOOL ORAL HISTORY FESTIVAL AND THE ORAL HISTORY CENTER COLLABORATE
EARLY ON, we worked with Professor Peter Vermilyea and Career Experience Coordinator Mary O'Neill at the Housatonic Valley Regional High School. The idea was to help with Prof. Vermilyea's Oral History Festival, to create a podcast with the interviews conducted by his students.  Abby Adam, a student (above left, pictured with Mary O'Neill), created this podcast:
---
---
Then, early Summer, 2019, Reinout van Wagtendonk, below, 40-year radio journalist and podcaster, presented workshops on Making a Podcast, for the Housatonic Heritage Oral History Center at BCC, on the Main Campus. Reinout has worked as a professional journalist for Dutch radio. His workshop gave us the essentials, and we were off and running.
Here is a link to another podcast in a series Reinout created for The Berkshire Eagle, with Viktoria Seavey, now a life coach, originally from Hungary.

Soon, we will populate this page with links to oral history related podcasts, including one or two from the workshop.
A FEW OTHER PODCASTS (we will add more!)
National Park Service
https://soundcloud.com/npsoralhistory
Here is a link to the Studs Terkel Radio Archives
https://studsterkel.wfmt.com/
LSU Harry T. Williams Center for Oral History
http://oralhistory.blogs.lib.lsu.edu/podcast-library/
American Social History Project Podcast
https://ashp.cuny.edu/podcast
A link to Digital Omnium, Survey of Oral History Podcasts (The Louis B. Nunn Center for Oral History, University of Kentucky Libraries, including their own, The Wisdom Project
https://digitalomnium.com/survey-of-oral-history-podcasts/)
Listen to past Oral History Association president Annie Valk talk about the evolution of oral history practice, via podcast at the Center for Oral History Presents
https://soundcloud.com/coph-csuf/e5v2
And here is one from National Public Radio, The Hidden Brain: